WCTE 2014 - X-RAD CONSTRUCTION SYSTEM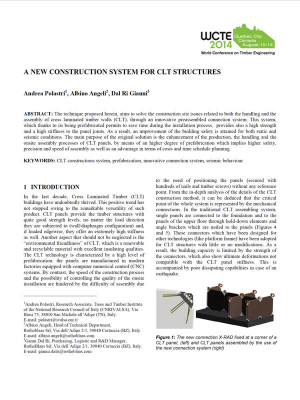 WCTE 2014 - X-RAD CONSTRUCTION SYSTEM
The technique proposed herein, aims to solve the construction site issues related to both the handling and the assembly of cross laminated timber walls (CLT), through an innovative preassembled connection system.
This system, which thanks to its being prefabricated permits to save time during the installation process, provides also a high strength and a high stiffness to the panel joints.
As a result, an improvement of the building safety is attained for both static and seismic conditions.
The main purpose of the original solution is the enhancement of the production, the handling and the onsite assembly processes of ,CLT panels, by means of an higher degree of prefabrication which implies higher safety, precision and speed of assembly as well as an advantage in terms of costs and time schedule planning.
| | |
| --- | --- |
| WCTE 2014 - X-RAD CONSTRUCTION SYSTEM | |