WCTE 2014 - X-RAD PRELIMINARY EXPERIMENTAL-NUMERICAL ANALYSIS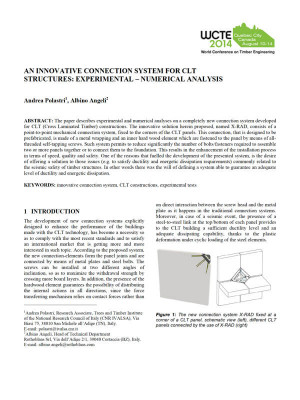 WCTE 2014 - X-RAD PRELIMINARY EXPERIMENTAL-NUMERICAL ANALYSIS
The paper describes experimental and numerical analyses on a completely new connection system developed for CLT (Cross Laminated Timber) constructions.
The innovative solution herein proposed, named X-RAD, consists of a point-to-point mechanical connection system, fixed to the corners of the CLT panels.
This connection, that is designed to be prefabricated, is made of a metal wrapping and an inner hard wood element which are fastened to the panel by means of all-threaded self-tapping screws.
Such system permits to reduce significantly the number of bolts/fasteners required to assemble two or more panels together or to connect them to the foundation.
This results in the enhancement of the installation process in terms of speed, quality and safety.
One of the reasons that fuelled the development of the presented system, is the desire of offering a solution to those issues (e.g. to satisfy ductility and energetic dissipation requirements) commonly related to the seismic safety of timber structures. In other words there was the will of defining a system able to guarantee an adequate level of ductility and energetic dissipation.
| | |
| --- | --- |
| WCTE 2014 - X-RAD PRELIMINARY EXPERIMENTAL-NUMERICAL ANALYSIS | |