WCTE 2018 - AIRBORNESOUND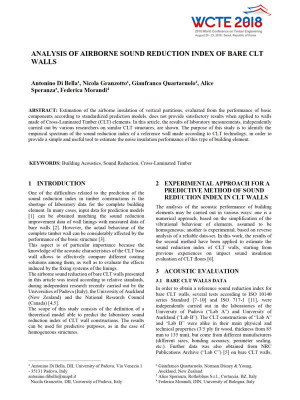 WCTE 2018 - AIRBORNESOUND
Estimation of the airborne insulation of vertical partitions, evaluated from the performance of basic components according to standardized prediction models, does not provide satisfactory results when applied to walls made of Cross-Laminated Timber (CLT) elements.
In this article, the results of laboratory measurements, independently carried out by various researchers on similar CLT structures, are shown.
The purpose of this study is to identify the empirical spectrum of the sound reduction index of a reference wall made according to CLT technology, in order to provide a simple and useful tool to estimate the noise insulation performance of this type of building element.
| | |
| --- | --- |
| WCTE 2018 - AIRBORNESOUND | |