ENERGY EFFICIENCY IN CONSTRUCTION

Energy efficiency in construction must go hand in hand with living comfort.

In recent years, there have been many innovations in the field of energy efficiency for timber house construction. The passive house has become a proven construction concept and can be applied by anyone, anywhere.

Rothoblaas believes in developing passive architecture and invests in innovative solutions in order to sustain the growth of the sector and to offer quality products for the most ambitious projects.


THE RIGHT SOLUTION FOR EVERY CLIMATE

Would you appreciate some help in choosing the right membrane? Building can be very different depending on which part of the world you are located in and which building system you are using.

This is why we have created a section of our website with a drop-down menu that is intuitive and extremely easy to use: just enter your climate zone and building system, and we will show you the most appropriate membrane for your project.

A wide range of solutions for air-tightness, wind-tightness and waterproofing of your projects, to build a better world in timber together with us.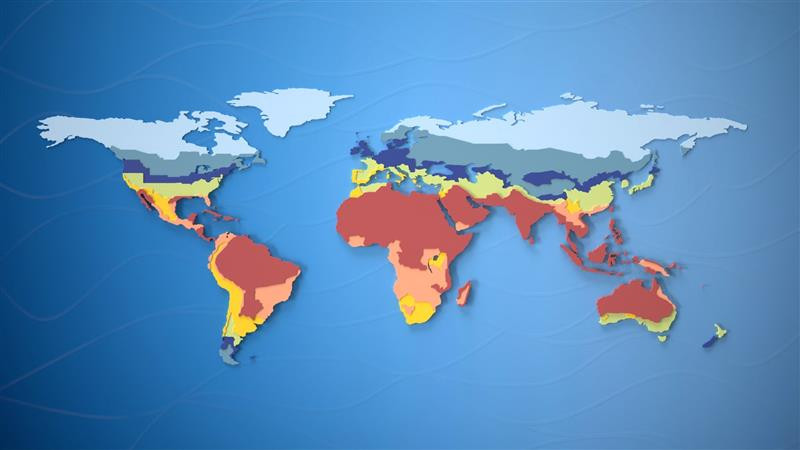 DURABILITY: TAPES AND MEMBRANES 

The durability of a material indicates its ability to maintain functionality while subjected to different environmental factors, based on where it is located, without excessive maintenance or repairs.

Every material has its own sources of degradation. UV rays, high temperatures, pollution and mechanical stresses affect the durability of the tapes by acting on polymers that compose them. Each source of degradation listed above has a negative effect on the performance of the material. However, it is the sum of several degradation factors that represents the critical situation of the products durability.

Monolithic membranes instead have a homogeneous and continuous functional layer. They have a longer life cycle than microporous membranes because they are more UV-stable and more resistant to heavy rain. Water vapour permeability works through a chemical reaction: certain polymers interact with vapour molecules, allowing them to pass-through.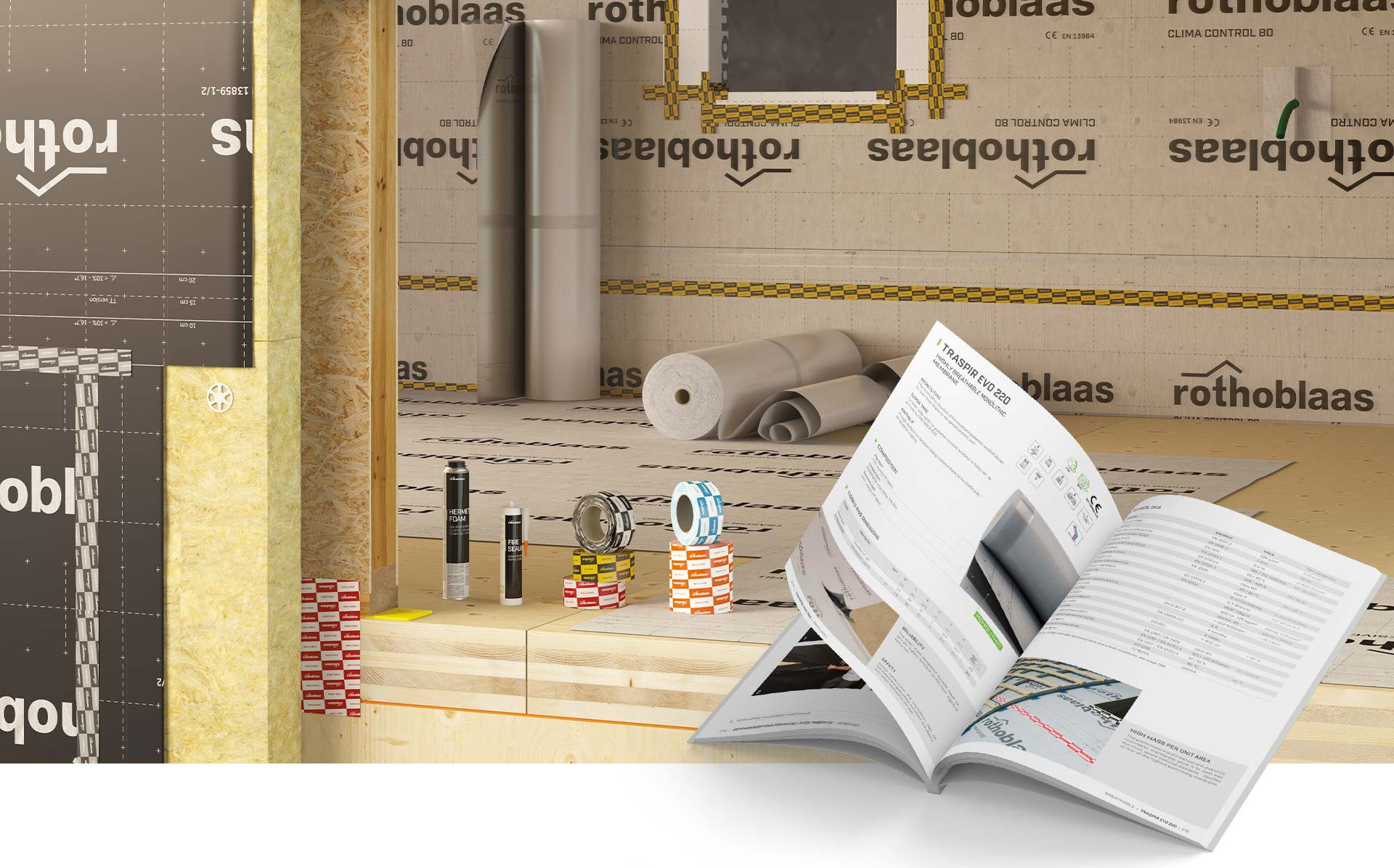 DOORS, WINDOWS AND STRUCTURE

There are three levels of protection for a perfectly sealed window or door. Only if all three levels are met when installing a window or door frame, it will it be effective:

1. wind tightness level: the most external level must guarantees protection against weather;
2. thermal and acoustic insulation level: the intermediate level must guarantee thermal-acoustic performance and mechanical fastening;
3. airtightness: it is the most internal level must be airtight.

An improperly installed high-performance window or door frame will compromise the overall performance of the system and disappoint consumer expectations. Thanks to studies and tests, we not only provide you with specific solutions for each of the three levels, but also with all the know-how to ensure the success of your work.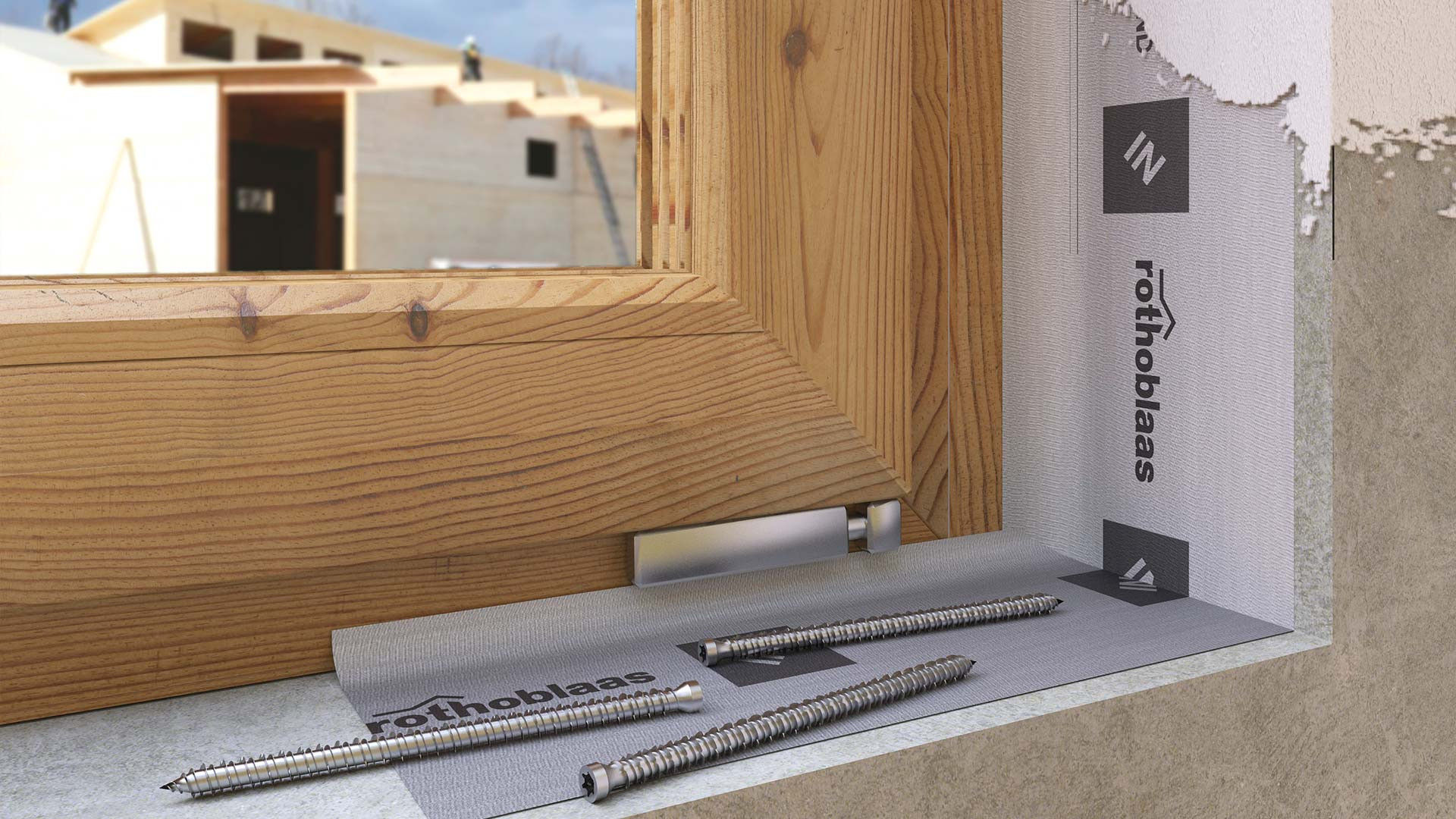 ENVIRONMENTAL SUSTAINABILITY: THE EPD DECLARATION

At Rothoblaas, we care about the environment and we are constantly striving to approach all issues relating to it with ever greater sensitivity. This is why we have included an EPD - Environmental Product Declaration - in the data of many of our products. This is a voluntary declaration that assesses the environmental impact of the product, from production to use and disposal.

In addition to the EPD, many products have a LCA - Life Cycle Assessment, the study of the material's life cycle to find out which solution is more environmentally sustainable. Here  you will find the report with all EPD and LCA data of many of our membranes.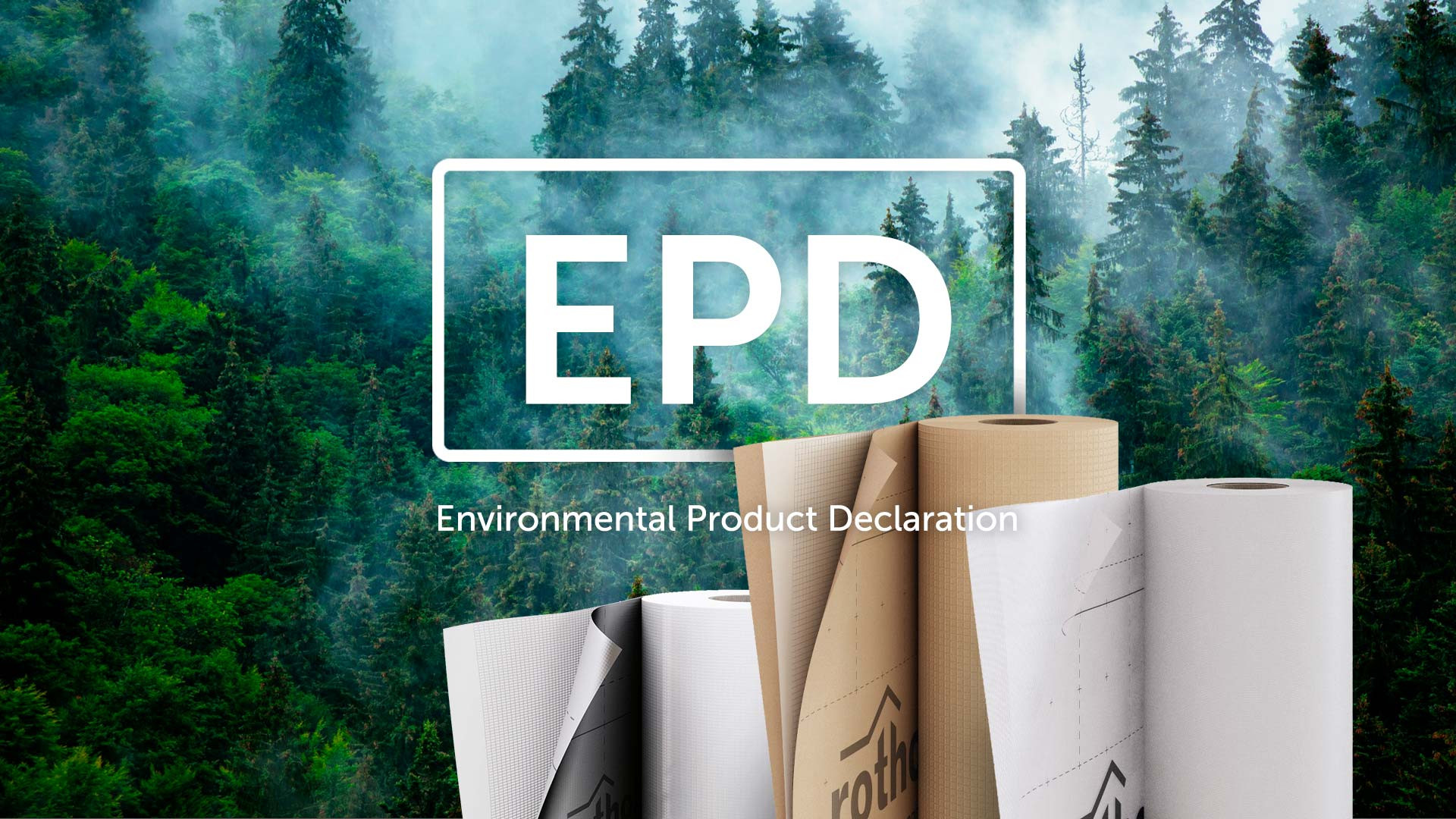 STRUCTURES AND FIRE BEHAVIOUR

When talking about the ability of an insulating material to resist fire, there are two fundamental concepts: the material's reaction to fire and its resistance to fire. The reaction to fire class is an indicator that provides an assessment of whether or not the material contributes to fire. The resistance to fire, on the other hand, indicates the ability of a building element to maintain structural stability during a fire for a given period. The primary purpose of fire resistance is to ensure the load-bearing capacity of the structure under fire conditions.

The characteristics that must be maintained during the action of fire are indicated by three letters:

R bearing capacity, ability of the building element to maintain structural stability under the action of fire.

E tightness, ability of the construction element not to let flames, vapours and hot gases pass-through to the side not exposed to fire

I thermal insulation,ability of the construction element to limit heat transmission to the side not exposed to fire

The fire resistance rating is expressed in minutes, during which resistance under the action of flames must be ensured. The indication of minutes follows the abbreviation REI (e.g. REI120). In the case of non-load-bearing structures, where the load-bearing capacity is not significant, the R factor can be omitted and the minutes can be expressed as EI (e.g. EI90).

On our YouTube channel you will find test videos with reactions to flame of our products, have a look!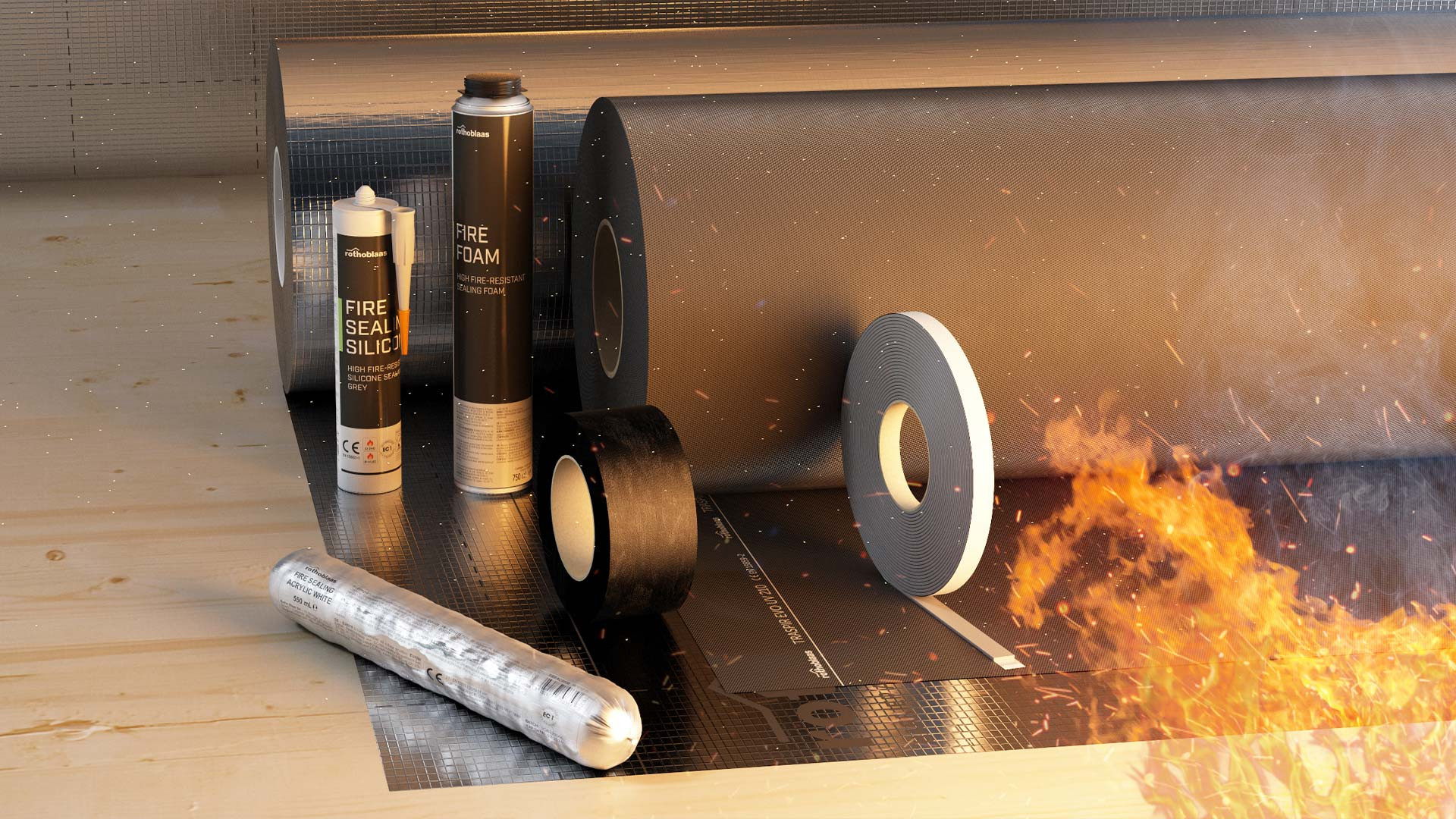 ROTHOBLAAS VIDEOS
Box Sealing - Membranes and tapes
Window Sealing - Membranes and tapes
Roof skylight Sealing - Membranes and tapes
OPTIMISED DETAILS FOR PASSIVE BUILDINGS

The most critical nodes of the structures made with the collaboration of Zephir Passivhaus Italia, IPHA affiliates. A library of construction details for timber buildings designed to ensure maximum structural, thermal, acoustic, airtightness and durability performance.

Downloadbale in .dxf and modifiable.
You can now find our top membranes in the famous WUFI software.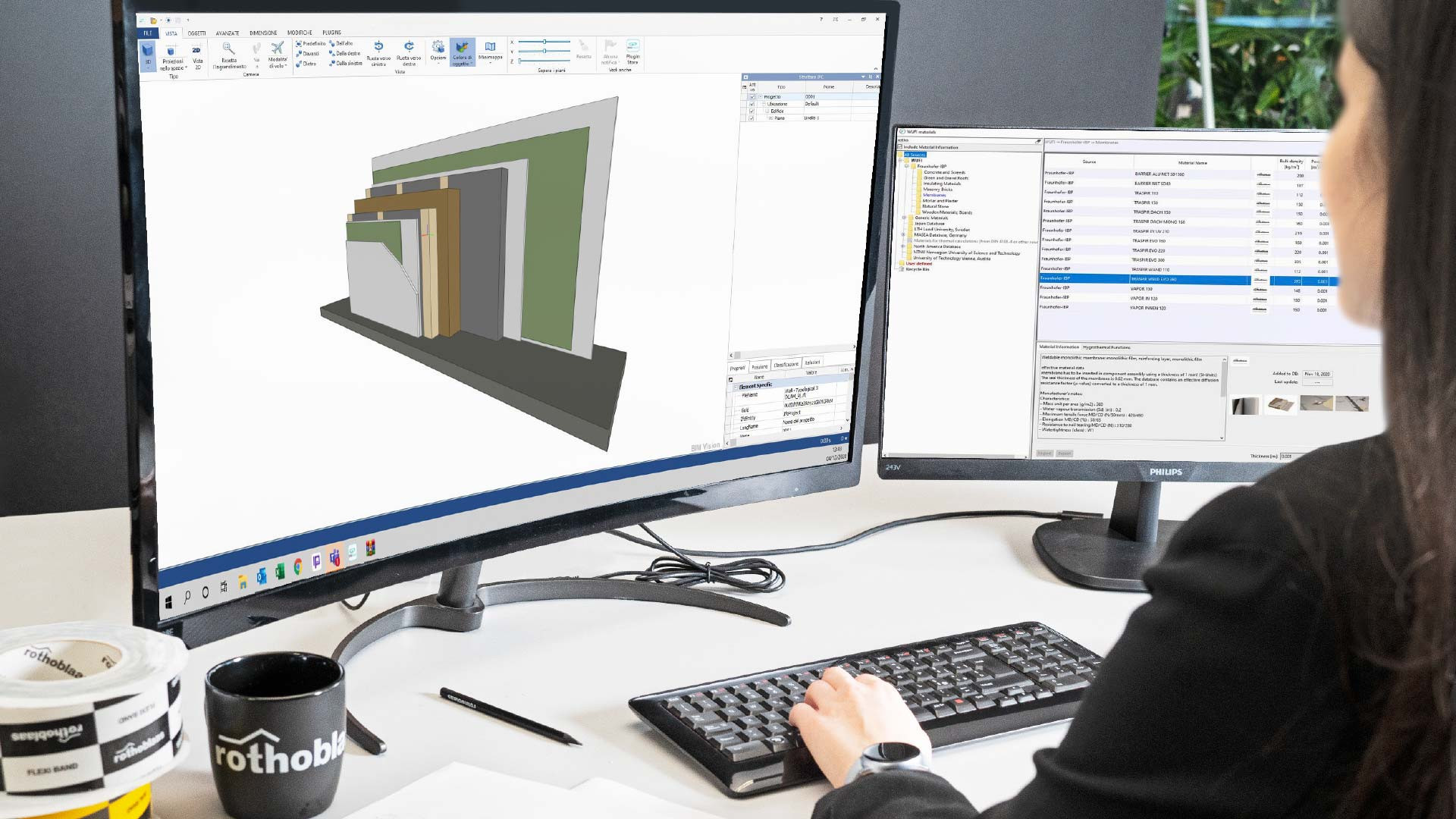 AIR QUALITY

The majority of people spend most of their time indoors. This is why air quality in buildings is so important.

Both indoors and outside, we breathe a mix of air and pollutants (volatile organic compounds - VOC) from different polluting sources.

Rothoblaas offers a range of construction materials that respect the environment and improve indoor comfort.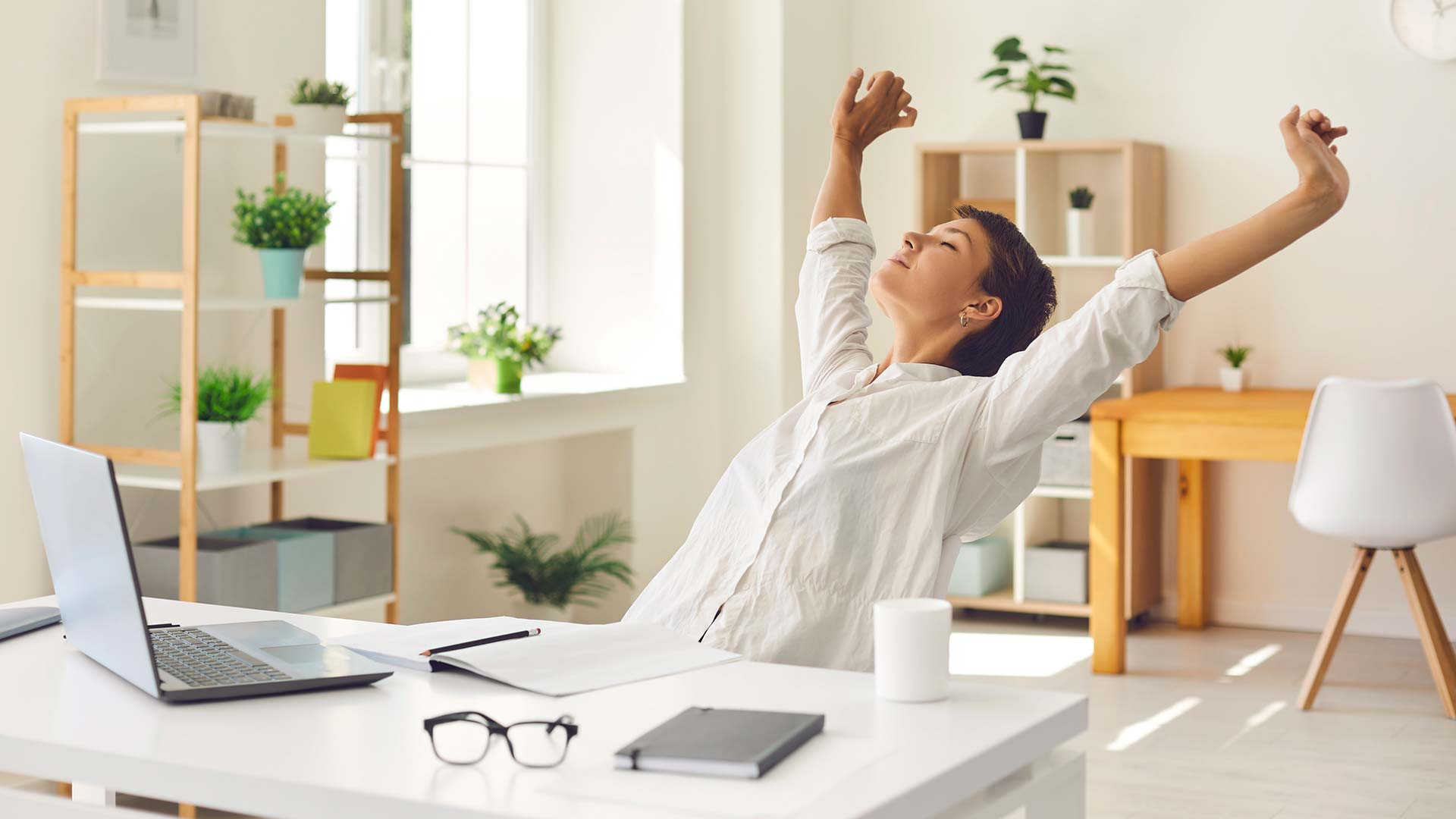 SOUNDPROOFING: LESS NOISE, MORE LIVING COMFORT

Rothoblaas defines acoustic comfort as a pleasant silence without any disturbances.

Focusing on details for the airtightness of the casing helps ensure better performance, even for soundproofing.
Timber, an extremely light material, is a conductor of sound vibrations.
This characteristic can be easily corrected by using the appropriate product.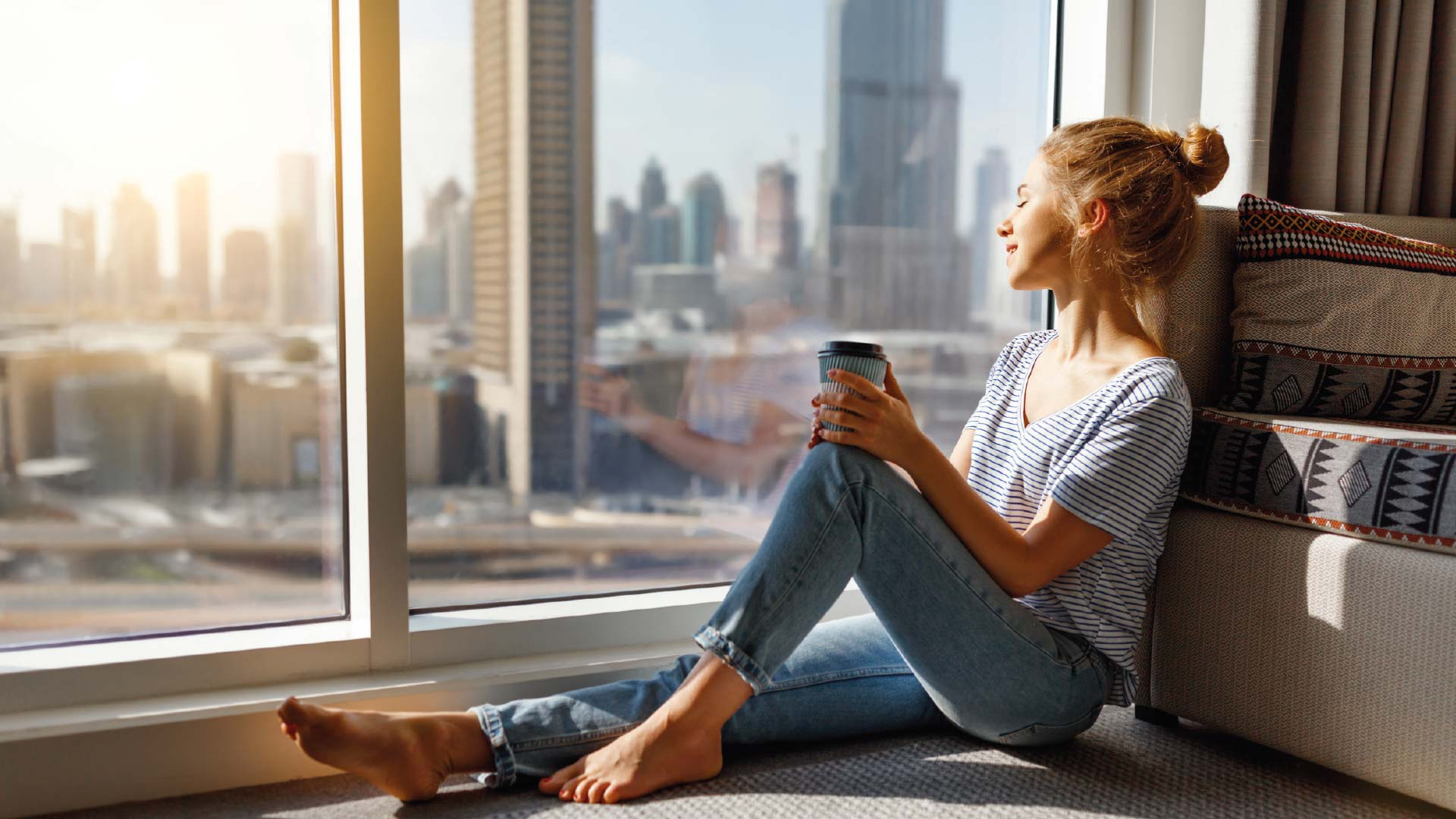 ROTHOBLAAS IS SYNONYMOUS WITH ENERGY EFFICIENCY AND DURABILITY